Carefronting Training Manuals  
Carefronting Training Manuals
Recognizing the need for Trauma literacy, forgiveness and reconciliation skills, Carefronting developed a training manuals on these two issues (entitled Trauma Consciousness and Resilience (TCR) Basic, Advanced and Forgiveness and Reconciliation (FaR), which was distributed widely within and outside of Nigeria. Over 150 organizations within the country were reached, and the manual was shared with representatives of 39 countries at international conferences in Nepal, Kenya, Italy, Guinea and Morocco.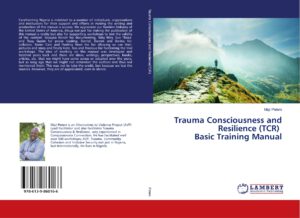 Trauma Consciousness and Resilience (TCR)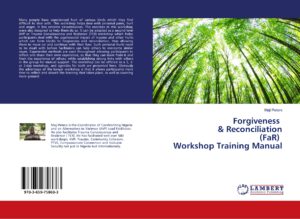 Forgiveness and Reconciliation (FaR)
Before finally going to press Carefronting organized content taster workshops in conjunction with the Alternatives to Violence Project (AVP) in London and Scotland coordinated by a one of our trustees Grazyna Bonati.
The Alternatives to Violence Project (AVP) was initiated, in 1975, by a group of Quakers in New York prisons, to help prisoners reduce the violence in their lives.  This proved very effective but since then it has also proved very effective in almost every context and situation.  AVP is now active in many States in the US and about 50 countries worldwide.  It has over the last almost 20 years been used in several parts of Nigeria and always been received with great enthusiasm.
Here are a few feedbacks from the workshop evaluation:
The two workshops provided us with an awareness of the Trauma experienced by people in relatively peaceful countries like Scotland as well as in war zones.
The workshop exercises and format provided opportunities for reflective listening, sharing and the acknowledgement of differences between us as well as the strong threads of our common humanity. I became aware of the narrative therapy aspect to all of our AVP workshops as the workshop progressed.
Over the two weekends as we were able to explore both the impact of trauma and the journey towards forgiveness and reconciliation together as individuals and as an AVP community, an invaluable and healing environment developed.
I owe a profound debt of gratitude to all who facilitated and participated in the workshops!
Mary (AVP Scotland)
Dear all, you have asked for evaluation feedback. I stayed for the first day of the trauma workshop, but left after the coffee break in the morning session on the Sunday. I had originally hoped to attend   day one of the forgiveness workshop (had commitments on the second day); but realized it was better not to do half a workshop.
   The  workshop aimed  to introduce participants to Trauma, to understanding trauma, types of trauma, ways we can be traumatized etc. and possible personal traumas that participants can have (known or unknown to themselves), with the aim of guiding them to safety and allowing them to be able to 'remember without reliving'.
   The workshop was clearly a good experience for others; and some of it was good for me. The reason I left was that it was not what I had expected.  I wanted to attend because I am conscious we may be having more refugees and migrants in Edinburgh,   many of whom might be traumatized, and I wanted to learn from Maji's huge experience in Nigeria how I might help stand alongside them.
   Maybe co-facilitating future such workshops might be part of the answer.
   But I found the usual AVP process of learning from the group of less use than usual in the context of trauma. Some people in the workshop had had traumatic experiences, and as ever in AVP I found some of the small group work illuminating and moving. But I felt very conscious that nothing in my life had remotely approached the experience of say Syrian refugees from Aleppo. Sharing a  couple of difficult things from my life  as an example of  personal 'trauma' felt like an inappropriate word in the ears of  anyone who had experienced real trauma.
    I also  felt we spent  quite a lot of time  brainstorming things  at length, for instance loss, grief, and mourning, without being clear by the end  of the  exercise exactly what we might be learning, and how it could be applied  in practice with traumatized and culturally dislocated refugees here.  
    We are all teachers and learners.  But there was clearly someone in the room (Maji) who has so much more experience of it and how to heal it than the rest of us, with so many more wise things and stories to share.
         Grateful thank nevertheless for putting this on, and all the time and thought involved.  I have continued reflecting a lot about what I heard. And following the workshop, I talked about it with a friend of mine who is traumatized with illness, and how she might be helped to move from loss and grief into mourning and acceptance.
       Thank you.  Rosemary
Hi all,
I apologize for the late feedback about the Trauma weekend workshop in Glasgow in March.
For me this workshop was powerful, emotional, full of insights and what feels like enduring learning for me about trauma, my own and how to better support others having experienced trauma.
I feel that I am still processing 'stuff' from both workshops. During the workshop I learnt some really useful ways to deliver for example using support groups during the weekend and some of the exercises. I found the first exercise we did, where we were invited into a circle and to step forward when a statement applied to us.
Maji and Grazyna have exceptional facilitation skills, it was evident that there is mutual respect. I learnt a lot from their deep experience, they were the best of role models.
There seemed to be so many exercises, many were deeply meaningful but facilitated at a good pace and with a gentle, non-intrusive, yet supportive hand. 
I am keen to develop my skills and complete the training.
Kindest regards
Janette