Training on Therapeutic Counseling & Clinical Consultation to Enhance Welfare Of Sell Foundation Resource Team and Volunteers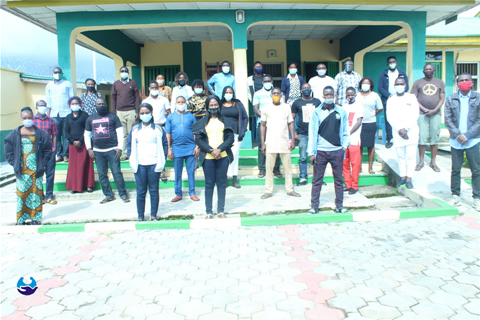 Carefronting Nigeria facilitated a two phase (3rd – 5th February and 5th – 6th September, 2020) training workshop for the Resource Team in SELL Foundation and the Volunteers.
Since the workshop is happening in the time of the Covid 19 pandemic, we have to observe the safety protocol as instructed by the Nigeria Center for Disease Control (NCDC) thus we regularly check the temperature of all, ensure the use of face masks, regular use of hand sanitizers, ensuring adequate ventilation and well spaced sitting arrangement etc.
The workshop sessions started with ground rules and expectations, then followed with exercises to build confidence and safe space and to enable participants to be present in the space for the workshop and to bond, this is to create an atmosphere for such workshops with tendency to be very emotional.
The workshop explored Trauma, Long and Short term impact of trauma, Counseling focusing on Therapeutic Counseling and spent a lot of time on Case Management and Consultation.
The case management sessions concentrated on areas of cases they handle mostly in the field thus the selected case studies were Relationship Issues, Domestic Violence, Rape, Alcoholism/Substance Abuse, Death and Bereavement.