Project to restore the peaceful coexistence and social cohesion of the population affected by the conflict in the Lake Chad Basin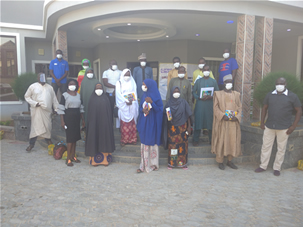 Carefronting Nigeria developed content, designed and facilitated training workshops for PLAN Staff and partners and 10 communities selected from 5 local government areas of Yobe state in August and carried out project monitoring in November, 2020..
PLAN International (Nigeria) is implementing a project aimed at restoring peaceful coexistence and social cohesion of the population affected by the conflict in the Lake Chad Basin. The project state in Nigeria is Yobe in the north east focusing on 5 Local Government Areas ( Damaturu, Busari, Yusufari, Fune and Nguru), in the state and 10 communities (Maisandari and Mairi in Damaturu LGA,  Dapchi and Masaba in Busari LGA, Tulotulo and Guya in Yusufari LGA, Mashio and Dogon Kuka in Fune LGA and Dabule and Dumsai in Nguru LGA). The project has the objective to promote social cohesion through the rehabilitation of social infrastructure and the integration of IDPs and refugees.
The project is being implemented by Plan International, Nigeria in collaboration with the Yobe State Ministry of Health, Yobe State Primary Health Care Development Agency, local CSO partners and other relevant stakeholders with funding from BMZ.
The Social Cohesion Component of the project seeks to strengthen existing community conflict resolution structures in each community, where there is hone; the project will support the communities to set a structure and own it. These communities will be responsible for resolving day to day conflict at local level through Interest Based Negotiation and Mediation, dialogue facilitation, peace campaigns, advocacies etc.
12 participants were selected from each community and 150 in all were trained (including 30 PLAN staff and partners) in a series of 5 workshops organized in Damaturu and Gashua, the participants were trained by Carefronting Nigeria in Understanding Conflict, Conflict Analysis, Strategic Communication, Listening Skills, Community Cohesion, Mediation, Restorative Justice, Early Warning Early Response Mechanism and Community Conflict Resolution System amongst others.
The participants from the communities were quite diverse cutting across every strata of the communities, with keen interest in ensuring inclusivity covering gender and age thus youths, elders, community leaders, men, women and other social groups and community structures were represented. The workshops apart from the PLAN staff and partners group was conducted in Hausa as most of the participants are from rural communities and most of them don't understand or speak English enough for the training to be in English.
The participants were quite enthusiastic and really motivated to support and sustain their community conflict resolution architecture. The feedback at the end of each workshop was very positive and they confirmed how helpful the workshop has been and how better informed they all feel for the tasks ahead.
They all worked together to develop their Plan Of Action (POA), that will enable them kick off activities on return to their various communities. The groups were all committed to step down the training for other members of the Community Conflict Resolution Committee that were not selected to participate in the training and to go on advocacy to reach out to community and religious leaders and other stakeholders in the communities.